Family Guy: The Quest for Stuff
Jump to navigation
Jump to search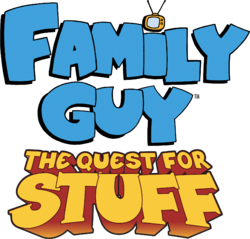 Family Guy: The Quest for Stuff is a freemium game based on the television series Family Guy. It has been released on iOS, Android, Windows Phone 8 and Windows 8.1. The game was initially released on April 10, 2014, though various updates have been released since, with the most recent update having been released on December 5, 2014. It is developed by TinyCo and published by Fox Digital Entertainment.
After Family Guy is canceled again, Fox assembles the Quahog residents to explain why. The blame is placed on Ernie the Giant Chicken, and so Peter challenges him to a fight. Before long, the fight causes the town of Quahog to be destroyed. Following the destruction, the player must help Peter rebuild and reunite him with family and friends.
Main article: Family Guy: The Quest for Stuff content updates
To date, six updates have been released for Family Guy: The Quest for Stuff. The first update, an Indiana Jones-style adventure titled Kingdom of the Full Moon, was released on May 31, 2014. This was later followed by another update on July 24, 2014, which was in the vein of San Diego Comic-Con International. A minor update was available from September 26–29, 2014, during which the player could try to win the Kool-Aid Man as a playable character. On October 31, 2014, a Ghostbusters-style update was released in time for Halloween. A month later on November 7, 2014, an update was released for the Quahog Clam Festival. The game's most recent update, a Christmas update, was released on December 5, 2014.
Level
Experience needed
Quote
1
Unknown
No quote
2
Unknown
You done good!
3
Unknown
Loud words of encouragement!
4
Unknown
What happened? I was't lookin'!
5
Unknown
You leveled up, but it's still gonna rain!
6
Unknown
Up, up, and up!
7
Unknown
You're really movin', college boy!
8
Unknown
My throat hurts!
9
Unknown
Sunny day, everything good!
10
Unknown
My throat hurts!
11
Unknown
You're really movin', college boy!
21
Unknown
You're doing great! If I were a person, I'd totally bone you!