Family Guy (comics)
Jump to navigation
Jump to search
For other comic books based on Family Guy, see Family Guy: A Big Book o' Crap! and Family Guy: Peter the Great.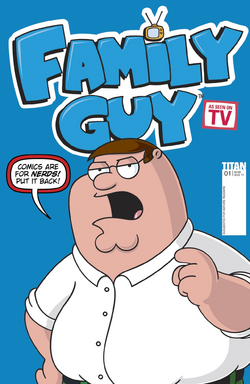 A comic book series based on the adult animated sitcom Family Guy was announced in April 2011.[1] The series was to be published in the U.S. by Titan Comics, edited by Steve White and illustrated by S. L. Gallant and Anthony Williams. The first issue was set to be released on July 27, 2011. A 12-month subscription pre-order service was also offered.[2] However, no issues of the Family Guy comic book series were ever released by Titan Comics.
The Family Guy comic book series planned on each issue having two alternative covers. Both covers for the first issue, and a cover artwork of the second issue, have been found.[3][4]